CPC: Special Climate Summary - 95/1
February 1995
ENSO Winter Impacts,
California Flooding,
Mild to the East
---
This publication monitors current and developing climate variations and is issued as conditions warrant. Questions should be directed as follows:

Area of Concern             Source                        Telephone Number
--------------------------------------------------------------------------
Current Climate Information Climate Analysis Center, NWS
                            Analysis and Information Branch (301) 763-4670
                            Diagnostics Branch              (301) 763-8227
                            Prediction Branch               (301) 763-8155
Regional Climate Centers    High Plains RCC                 (402) 472-6706
                            Midwest RCC                     (217) 244-1488
                            Northeast RCC                   (607) 255-1751
                            Southeast RCC                   (803) 737-0849
                            Southern RCC                    (504) 388-6184
                            Western RCC                     (702) 677-3106
Public Information          NWS Public Affairs              (301) 713-0622
Historical Perspective      NESDIS National Climatic
                            Data Center                     (704) 271-4800
Water Supply/Forecasts      NWS Office of Hydrology*        (301) 713-1630
                            USDA Natural Resources Conser-
                            vation Service                  (503) 326-2843
                            California Department of Water
                            Resources                       (916) 653-2980
                            Bureau of Reclamation           (916) 978-4919
Agriculture                 USDA World Agricultural Outlook
                            Board                           (202) 720-3508
                            USDA National Agricultural Sta-
                            tistics Service                 (202) 720-2157

*There are 13 National Weather Service River Forecast Offices throughout the U.S. that provide water supply forecasts. Call the above number for the River Forecast Center with responsibility for your area of interest.
The Climate Analysis Center (CAC) provides climate products and services consisting of operational prediction of climate variations, monitoring of the climate system and development of databases for determining current global and regional climate anomalies and trends, and analysis of their origins and linkages to the complete climate system. These services cover climate time-scales ranging from weeks to seasons, extending into the future as far as technically feasible, and over the domain of land, ocean, and atmosphere, extending into the stratosphere.
Services and products are distributed to users in the government, the research community, private industry, and the public, both in this country and abroad. The CAC supports and stimulates the use of climate data for applications in agriculture, energy, transportation, water resources, and health.
To support these services, the CAC engages in diagnostic research and studies of observations and forecast model output to improve the prediction, monitoring, and analysis of the physical climate system.
1. Introduction
Near-record rainfall was observed throughout California in January (section 2), and near-record warmth has dominated the eastern half of North America since mid-December (section 3). These conditions are attributed to a persistent and abnormal atmospheric circulation (section 4), characterized in the West by below-normal upper-air heights and surface pressure and a southward shift of the jet stream, and in the East by above-normal upper-air heights and surface pressure and a northward shift of the jet stream. This circulation reflects the most pronounced negative phase of the Tropical/ Northern Hemisphere (TNH) teleconnection pattern in the historical record. A negative TNH pattern is common during warm El Nino/ Southern Oscillation (ENSO) events, and the simultaneous development of this pattern and strong ENSO conditions in the Pacific Ocean links the two phenomena (see section 5). The forecast verification for California precipitation and the February and February-April Climate Outlooks are presented in section 6.
2. Heavy Rains and Flooding in California
The western United States normally receives the bulk of its annual precipitation during the October - April "wet season." However, below-normal precipitation has been observed over much of the region during the last 10 years. In particular, the 1993/94 wet season was very dry throughout the West (Figure 1a), and by the beginning of the 1994/95 wet season, long- term drought was again firmly established throughout the region. Drought conditions were partially alleviated between October and December, as near-normal precipitation covered the West (Figure 2), During January record or near-record precipitation totals were observed at many locations throughout California, including the southern deserts. According to the River Forecast Centers, the heaviest precipitation (38 to 42 inches) fell on the southern Cascades, the northern Sierra Nevada, the windward slopes near Santa Rosa (north of San Francisco), and at Old Man Mountain near Santa Barbara (Figure 1c). In southern California, intense periods of heavy rain and snow were observed during January, while farther north nearly continuous precipitation was observed. Most of northern and central California observed precipitation on all but 4-5 days during the month, and San Francisco established a new record for consecutive days with measurable precipitation between January 1-16. Mt. Shasta and Santa Rosa recorded precipitation for a record 29 days during January.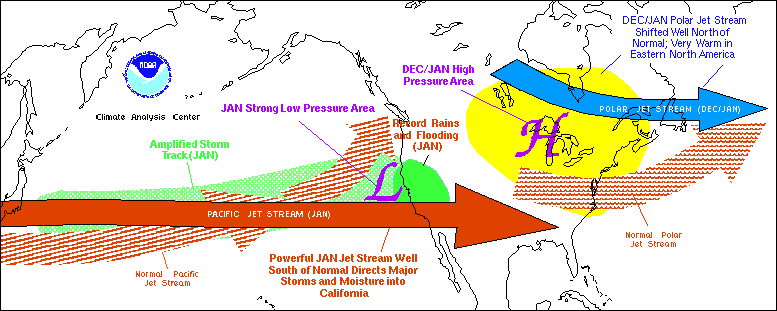 Upper-level flow features over the North Pacific and North America during December 1994 & January 1995.
See section 4 and Figure 7 for more details.
---
The heaviest precipitation in California fell on January 8-10, when new all-time 24-hour rainfall records were established at Sacramento (4.47") and Santa Barbara (7.45"). During this period, the National Weather Service (NWS) Office of Hydrology reported over 12.5" of precipitation within 24 hours in an area extending from the North Fork of Matilija Creek to the northwest of Los Angeles. At the Los Angeles International Airport, January 10 marked the second time in a week that a daily precipitation totals exceeded the January monthly normal. Farther north and east, 48-hour precipitation totals approached 15 inches in the northern Sierra Nevada, and over 12 feet of snow fell at some higher elevations. Overall, this excessive precipitation caused widespread flash flooding and mud-slides across central and southern California, and major river flooding in northern portions of the state. Also on January 10, the Russian River at Guerneville rose to 16 feet above flood stage (within a foot of its February 1986 record), and the Eel, Napa, and Sacramento Rivers also rose to well above flood stage. Farther south, urban and flash flooding predominated, and mud flowing onto major highways forced the temporary closure of many roads, including portions of the Pacific Coastal Highway. Media reports indicated that nearly a dozen individuals lost their lives as a result of the heavy rains, flooding, and mud- slides. Overall, January was the wettest month on record at the Los Angeles International Airport (12.74"), Santa Maria (11.78"), Santa Barbara (21.94"), Lompoc (15.37"), Cuyama (in the southern desert, 5.94"), and Gibraltar Reservoir (34.76"). In addition, Las Vegas, NV (3.00") and Eugene, OR (15.33") also reported new January monthly precipitation records. In California, the excessive precipitation totals, major flooding, mudslides, etc. eventually forced thirty-six counties to be declared Federal Disaster Areas (see figure). The excessive January precipitation brought season-to-date (October - January) totals to near- or above-normal over most of Washington, Oregon, Idaho, Nevada, and California, with at least twice the normal four-month total recorded in parts of southern California (Figures 1b, 2). Snowpack water content was also well above-normal in most mountainous areas west of the Rockies by the end of January, although unusually light precipitation over the Rockies allowed the snowpack water content to decline in parts of Montana, Wyoming, Colorado, and New Mexico (Figure 3a). The California Department of Water Resources reported that the snowpack in the northern Sierra's through late January exceeded record January 1983 values, while the snowpack in the central and southern Sierra's were almost as large as January 1983 record levels. Additionally, near or slightly above-normal long-term soil moisture conditions were observed throughout the West by the end of the month, as indicated by the Palmer long-term drought index (Figure 3b), where widespread severe- to- extreme drought conditions had prevailed only five months ago.
3. Unusually Warm Temperatures over Eastern North America
Unusually mild weather has dominated the north-central, northeastern, and east-central United States, and much of southeastern Canada since November (Figure 4a). During November 1994 - January 1995, temperatures averaged 10-14 degrees F above normal over large portions of east-central Canada, and 6-9degrees F above-normal throughout the rest of east-central and southeastern Canada and the Great Lakes region. These anomalies were in the top 1% of the distribution over southern New England, the mid-Atlantic states, the eastern Great Lakes, the lower Ohio Valley, and much of Ontario. More than 250 record high temperatures were established across the northern and eastern sections of the United States during this 3-month period. According to the National Climatic Data Center, statewide-average temperatures for November 1994 - January 1995 were the highest on record (for all such periods since 1895/96) in New Hampshire and Vermont. Furthermore, it was one of the five warmest such periods in the 100 years of record in 14 other states [MD (2), NJ (2), NY (2), PA (2), RI (2), CT (3), OH (3), MA (4), MI (4), WI (4), KY (5), MN (5), VA (5), WV (5)]. Two exceedingly warm episodes occurred during this period: December 18-31 and January 8-21. During the first episode (Figure 4b), the largest temperature anomalies were found over south-central and southeastern Canada, where temperatures averaged up to 23 degrees F above normal. During the second episode (Figure 4c) temperatures exceeding 5 degrees F above normal covered virtually all of the United States and southern Canada. However, the largest temperature anomalies exceeded +15 degrees F, and covered the northeastern United States from the central Appalachians to central New England, as well as portions of the western Plains and the northern intermountain region. Daily high temperatures greater than 70 degrees F were observed over the west-central Appalachians and the mid-Atlantic states (Figure 4d) during this period, and high temperatures exceeding 60 degrees F were recorded as far north as southern Montana, western South Dakota, and extreme southern Quebec. Accompanying these extremely warm conditions, abnormally low snow cover was observed througout the Great Lakes region and the northeastern United States (Figures 5b,c). Large portions of the mid-Atlantic states reported a complete lack of snow cover during December and January, while much of New England recorded snow cover deficits between 25%-75% of normal. By late January, the Northeast Regional Climate Center indicated that much of the Northeast had recorded snowfall deficits exceeding 12 inches, while some regions of central New York and southwestern New England recorded 2.5 to 4 feet less than normal snowfall.
4. Atmospheric Circulation: Record Negative Tropical/Northern Hemisphere (TNH) Teleconnection Pattern
During November the observed temperature and rainfall departures were associated with a markedly amplified jet stream pattern: a ridge extending unusually far northward over the central North Pacific and a deep downstream trough extending southward from the Canadian Rockies to southern California (Figure 6a). This pattern was accompanied by stronger jet stream winds throughout the central North Pacific and western United States, and by enhanced storm activity extending southeastward from the Gulf of Alaska to central California. Farther east, high surface pressure covered much of the eastern United States. This circulation reflected a strong negative phase of the Pacific/North American (PNA) pattern (Figure 6a), and was likely unrelated to developing warm ENSO conditions in the tropical Pacific. A dramatic change in the atmospheric circulation over the Pacific and North America then occurred in mid-December (Figure 7). Since this time below-normal upper-air heights and surface pressure have covered the eastern North Pacific and western United States, while above-normal heights and surface pressure have covered eastern North America. This abnormal circulation has reflected the strongest negative phase of the TNH pattern (Figure 8a) since the beginning of the record in 1964 (Figure 8b). The negative TNH pattern was particularly amplified from December 13-31 (Figure 6b), and from January 8-21 (Figure 6c). During the first episode, the pattern reached record strength, and reflected a dramatic weakening of the trough normally located over Hudson Bay, and a shift of this trough to the western North Atlantic. Accompanying this circulation, the polar jet stream was shifted northward toward southern James Bay, approximately 15o latitude north of normal (Figure 7). This flow pattern prevented the normal build up of cold air over central and eastern Canada, and also tended to direct any cold-air movements quickly across eastern Canada and then out over the western Atlantic. These conditions, in combination with abnormally strong southerly flow farther south, brought extreme warmth to the eastern half of the United States and much of southern Canada during the period. The negative TNH pattern was even stronger in January, establishing a new record for the second consecutive month. During this period the jet core extended eastward from Asia to central California (Figure 6c, 7), and served as a "duct", whereby a series of major storm systems were directed across the Pacific and into California, thus producing excessive precipitation totals and flooding througout the state. This jet core and storm track were displaced south of their normal location by approximately 18o latitude (Figure 7).
5. Relation to ENSO
Strong warm ENSO conditions are currently present in the tropical Pacific. During these periods ENSO is an important contributor to the large-scale atmospheric circulation over the Pacific and North America. However, it is often difficult, particularly during the onset of mature ENSO conditions, to determine the extent to which the large-scale atmospheric circulation in the middle latitudes is being influenced by ENSO. This difficulty lies in the fact that the observed circulation strongly reflects a combined influence of ENSO and natural atmospheric variability, and it is therefore quite variable from one ENSO to the next. Nonetheless, the negative TNH pattern observed since mid-December is a characteristic atmospheric circulation pattern of ENSO, and the simultaneous development of this pattern and ENSO links the two phenomena. Thus, both the extreme warmth over eastern North America and the heavy precipitation in California are also partially linked to ENSO. However, important aspects of the flow structure and evolution (section 4), which ultimately determined the details of the observed rainfall and temperature patterns, were likely dictated by internal atmospheric dynamics. For example, although an extreme negative TNH pattern was prominent in both December and January, large variations in California rainfall and in the areas of record warmth over eastern North America were evident between the two months. In California the heavy January rains were linked to a dramatic southward shift of the jet stream into the southern part of the state. Farther east, the center of positive height anomalies over eastern North America shifted southeastward during January compared to its December position. This evolution was accompanied by a corresponding southeastward shift in the area of extreme warmth from south-central Canada to the northeastern United States. Finally, during the last eight ENSO events between 1964 and 1993, wintertime precipitation totals in California have exceeded 0.5 standard deviation above normal in five events. Precipitation totals were near normal in one ENSO event (1991/92) and below-normal in the remaining two events (1965/66 and 1986/87). Thus, there is no statistically significant reason to expect above-normal winter precipitation in California merely because there is an ongoing ENSO. However, if one examines this question from the opposite perspective, studying the six winters in California since 1964 when seasonal precipitation totals exceeded 0.5 standard deviations above normal, it is evident that five of these coincided with mature ENSO conditions (the exception is 1979-1980). Thus, if substantially above-normal wintertime precipitation is to occur in California, then it will most likely occur during an ENSO; but ENSO's presence does not guarantee such an occurrence The extreme precipitation observed during January in California is consistent with these statistics.
6. Forecast Verification and Outlook
a. Forecast Verification: California Precipitation
The National Meteorological Center (NMC) short-range (1-2 day) and medium range (3-5 and 6-10 day) products exhibited overall good skill in forecasting the excessive precipitation over California. These forecasts were aided by generally good model guidance from both the NMC and the European Center for Medium Range Forecasting (ECMWF), and by a good understanding of local orographically-induced precipitation patterns. At the 3-5 day range, the MRF model guidance was closely followed during the month, and above-normal precipitation was correctly forecast for most 3- to 5-day forecasts issued during the month. At the 6-10 day range, forecasts failed to predict the initial onset of the heavy California rains in early January. These errors resulted primarily from model failures to predict the initial formation of the intense trough off the northern California coast at these lead times. However, after this time, all 6-10 day forecasts except one correctly maintained the heavy precipitation totals through the end of the month. The extended-range (30-day) precipitation outlook for January produced by CAC indicated that in lieu of the absence of any clear signals in mid-December, climatological probabilities were the best forecast for California. Clearly, this outlook did not provide advance warning of the impending excessive rainfall totals observed over California during the month.
b. February and Seasonal Outlook
The 3-month outlook for February-April 1995 (Figure 9) indicate an increased likelihood of above-normal temperatures in the western and eastern United States, and above normal precipitation throughout California and most of the southern tier of the United States.
Acknowledgements:
We thank the cooperation of the Northeast and Western Regional Climate Centers, the NWS Office of Hydrology, the National Climatic Data Center, the Natural Resources Conservation Service, and Dr. Randy Dole (NOAA/ERL Climate Diagnostics Lab) for their contributions to the preparation of this Summary.