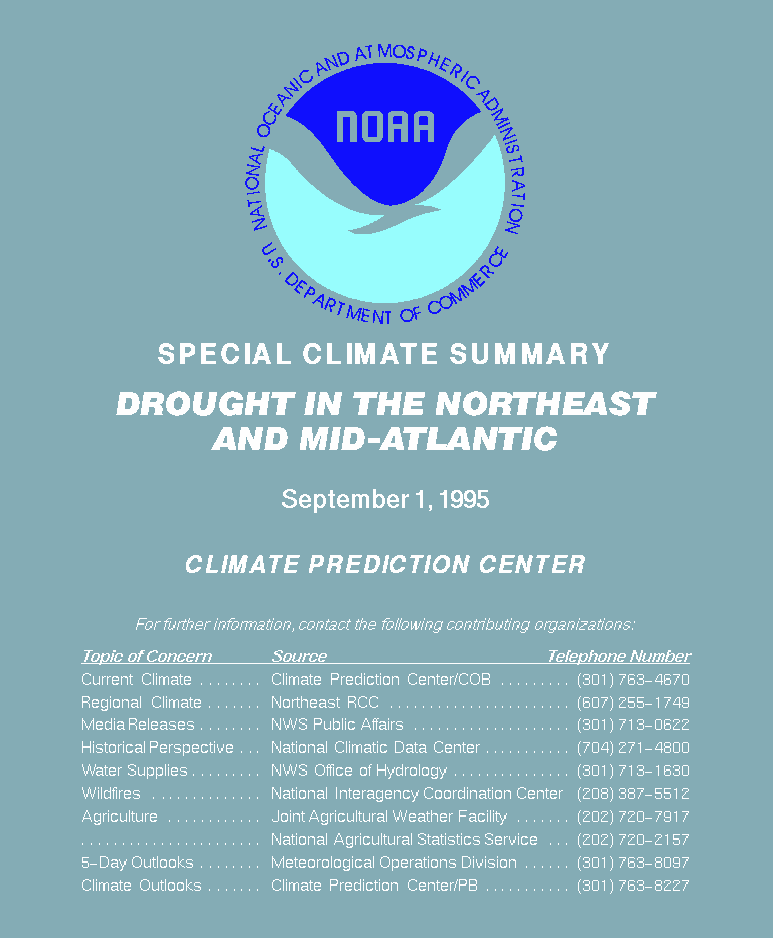 Record Dry Spell in parts of the Northeast and Mid-Atlantic
---
Drought conditions have intensified across the northeastern quarter of the country, and forecasts indicate that significant relief is unlikely during the next 10 days.

Much of the Northeast and mid-Atlantic have received little or no rain since early August, exacerbating long-term dryness that has persisted since mid-March, and in some areas since October, 1994. Severe short-term dryness began after the remnants of Hurricane Erin traversed the mid-Atlantic on August 6. The ensuing 25 days (through the 31st) brought only spotty light showers to most of the Northeast and mid-Atlantic, with no measurable rain reported in several areas from north-central Virginia northeastward into the Boston, MA metropolitan area (Figure 1). New York City reported no measurable rainfall for 24 consecutive days before dissipating thundershowers dropped light rain on some areas late August 31. This broke the previous August record of 19 straight days set in 1938. New York City's Central Park measured a meager 0.18" of rain this August, erasing the prior August record low of 0.24" in 1964. Similarly, LaGuardia (0.12") and JFK (0.22") Airports also set new August records. Farther south, National Airport in Washington, DC recorded an August record of 25 consecutive days without measurable rain, and the all-time record of 32 days set in 1963 was within reach. Unfortunately, none of the copious rains (up to 20" near Greenville, SC) from the remnants of Tropical Storm Jerry did not reach any farther north than central Virginia.

The cause of these unusual conditions over the last month can be attributed to a displacement of jet-stream features from their climatologically-typical positions. Normally, a moderately strong upper-level ridge dominates the central United States during August, with troughs positioned along both the Atlantic and Pacific Coasts. This year, however, the trough along the Pacific Coast was abnormally strong and to the east of its normal position. This forced the ridge well northeastward, becoming established along a Great Lakes/Hudson Bay axis, particularly during the middle of the month. As a result, significant mid-latitude weather disturbances were shunted northward from the West Coast toward central Canada, while tropical moisture was forced to the south, affecting the Gulf Coast Region and Southeast. Late in the month, a strong upper-level trough formed over the northern Atlantic Ocean south of Greenland. This established a northwesterly upper-level flow over the Northeast that allowed cool, dry air to displace the hot conditions observed earlier in the month. The late-August weather pattern, unfortunately, also suppressed rainfall in the region, so drought conditions continued.

The severe short-term rainfall shortages enhanced a pattern of persistently subnormal precipitation dating back 6 to 11 months in much of the Northeast and mid-Atlantic. Most areas recorded less than 75% of normal precipitation since March 12, with localized sections of New York, lower New England, and the eastern mid- Atlantic observing under half of normal (Figure 2). Typically, 16 to 23 inches of rain falls on the Northeast and eastern mid-Atlantic during March 12 - August 29, but only 10 to 15 inches were measured at most locations for the 171-day period this year. Rainfall was particularly short in eastern and southeastern New York, northeastern Pennsylvania, and southern Vermont, where only 5 to 11 inches were reported. Consequently, streamflows across the Northeast were already below normal by the end of July (Figure 3) while localized intense rainfall led to copious flows across the central and western mid-Atlantic during this period. Going back to October 1994, deficits exceeded 8 inches at many locations, with shortages of 15 to 20 inches reported along the Atlantic Seaboard and in upstate New York (Figure 4). In addition, above normal temperatures during much of the year, particularly during July, contributed to enhanced surface evaporation in the Northeast.

All of these factors contributed to the current long-term moisture budget conditions across the region. The long-term Palmer Drought Index (PDI) was less than -4 ("extreme drought") over parts of central and southern New York, southern Connecticut, northeastern Pennsylvania, and the eastern mid-Atlantic on August 26 (Figure 5). Most other sections of the Northeast were in "moderate" to "severe" drought (PDI between -2 and -4) while much of central and western Virginia and West Virginia registered only slightly below normal in the long-term, primarily because of the locally intense June and July rains.

Drought warnings were recently issued for several northern New Jersey counties, while drought watches were extended to the lower Hudson River Valley, the Catskills, the Hudson Mohawk region, and the New York City metropolitan area. The New York City reservoir system held about 67 percent of capacity (Figure 6), compared to the normal 81 percent of capacity in late August, when recharge is typically very low. Some small municipal water systems with shallow wells have begun to issue water use restrictions. If conditions continue to deteriorate, voluntary conservation measures will become more common, and in some areas, more specific mandatory conservation measures will be necessary.

Most rivers and streams across the northeastern quarter of the nation are at about one-half of their normal flow for this time of year. The flow on the Susquehanna River at Harrisburg is 29 percent of normal for late August, and the Delaware River at Trenton is at 73 percent of normal flow. The Hudson River at Ft. Edward was running at 29 percent of normal, and the Connecticut River at North Stratford was near 28 percent of normal.

The lack of rain on Long Island led to tinder dry conditions which aided the development of large wildfires, reportedly the worst in 60 years according to local officials. These fires consumed about 6,000 acres of land. In addition, fire danger advisories have been issued by the Pennsylvania Department of Conservation and Natural Resources and the New York State Department of Environmental Conservation. According to the National Interagency Coordination Center in Boise, ID, the current fire severity potential across most of New England and the mid-Atlantic is in the high to very high risk category, with pockets of extreme risk.

Agricultural interests have thus far experienced the most significant and widespread impacts resulting from the dry conditions. According to the Department of Agriculture, topsoil moisture across the Northeast and mid- Atlantic were low to very low as of August 28, with some crops stressed due to the hot, dry weather. Late-planted vegetable crops in New England are showing the greatest stress. Yield and quality prospects for corn and soybeans are declining, with most crops reported in poor to very poor condition.

Generalized, regional short-term forecasts through Sep. 9 suggest little significant relief from the drought conditions (Figure 7). The 5-day outlook (for Sep. 1-5) indicates slightly above normal temperatures and light to moderate rainfall, and the 6-10 day outlook (for Sep. 5-9) calls for above to much above normal temperatures and below to near normal precipitation. [Please note that these generalized outlooks describe average conditions over large areas and time frames. For outlooks at specific locations, refer to the forecasts issued by the local NWS Forecast Office]. There is no clear signal for relief of drought conditions in the longer-term outlooks for September and the meteorological Autumn (September-November).
---