<![if !vml]>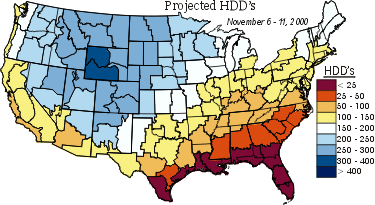 <![endif]>
[click on map for larger image]
The CPC weekly Degree Day Assessment discusses the Heating Degree Day (HDD) or Cooling Degree Day (CDD) outlook for the coming week, and reviews temperature and degree day statistics for the past week and the heating season (November - March) or cooling season (May - September) to date. This Assessment can assist energy managers in anticipating and analyzing fuel demand, because degree days quantitatively reflect the public need for energy to heat and cool businesses and dwellings.
For any individual day, degree days indicate how far that day's average temperature departed from 65oF. HDD's, which measure heating energy demand, indicate how far the average temperature fell below 65oF (since cooler weather means more heating fuel demand). Similarly, CDD's, which measure cooling energy demand, indicate how far the temperature averaged above 65oF. In both cases, smaller values represent less fuel demand, but values below 0 are set equal to 0, because energy demand cannot be negative. Furthermore, since energy demand is cumulative, degree day totals for periods exceeding 1 day are simply the sum of each individual day's degree day total. For example, if some location had a mean temperature of 60oF on day 1 and 80oF on day 2, there would be 5 HDD's for day 1 (65 minus 60) and 0 for day 2 (65 minus 80, set to 0 since degree days cannot be negative). For the day 1 + day 2 period, the HDD total would be 5 + 0 = 5. In contrast, there would be 0 CDD's for day 1 (60 minus 65, reset to 0), 15 CDD's for day 2 (80 minus 65), resulting in a 2-day CDD total of 0 + 15 = 15.
In this Assessment, degree day and temperature statistics are based on areally-averaged numbers for each of 102 climate regions of approximately equal area that cover the contiguous 48 states.
• The Latest Assessment [updated November 6, 2000]
The first full week of November is expected to bring abnormally low temperatures to most areas from the Plains to the West Coast while relatively warm conditions cover locations from the Mississippi River eastward. As a result, HDD totals 30 to 60 below normal for November 6 – 12 are expected from the central and northeastern Gulf Coast northward through the Ohio Valley, Appalachians, and southern Atlantic coast, and also in northern New England. Temperatures in these areas are anticipated to average among the warmest 20% of expected occurrences for this time of year, based on 1990-1999 data. Conversely, at least 30 more HDD's than normal are forecast from the Plains to the West Coast, with much of the central Great Plains, the High Plains, and the central and northern Rockies expected to record HDD anomalies exceeding +60.
The latest Climate Outlook issued by the Climate Prediction Center on October 12 called for warmer than normal temperatures to again cover large sections of the country during the upcoming winter, but conditions are expected to average near normal in most of the central and northern Plains, central and northern Mississippi Valley, Great Lakes region, Northeast, and some adjacent areas.
• Supplementary Information
• Outlook Maps, Graphs, and Tables
CPC produces U.S. outlook maps for degree days, departures from normal, and average temperature percentile; tables of population-weighted state, regional, and national averages by state; and probability of exceedence graphs.
• U. S. Degree Day Outlook Maps by U.S. Climate Regions
Based on output statistics from the Medium Range Forecast Model (MRFMOS).
The sum of each day's degree day forecast in each of 102 climate regions that cover the contiguous 48 states.
• 7-Day Departures from Normal HDD
The amount by which the 7-day total for each climate region departs from the average degree day total for the same 7 days during 1990-1999. Negative numbers reflect less energy demand than normal.
• 7-Day Average Temperature Percentiles
Compares the anticipated 7-day average temperature for each climate region to the expected range of averages for the same 7 days, based on the 1990-1999 distribution of observations.
• State Degree Day Outlook Tables
• Probability of Exceedence Graphs
• Monitoring & Data
CPC produces maps showing observed degree days, departures from normal, averaged temperature percentile, and winter energy savings based on temperature; and provides station and regional data.
• U.S. Degree Day Maps
• Last Week HDD & HDD
• HDD's for Full 1999-2000 Season (November - March)
• CDD's for Full 2000 Season (May - September)
• Winter Season Departure from Normal Energy Usage Based on Heating Degree Days
• Current Statistics (Projected and Observed) by Climate Region
•Degree Day and Temperature Anomalies/Percentiles (HTML)
•Degree Day and Temperature Anomalies/Percentiles (ASCII)
• Current Statistics (Observed) by State
•Degree Day Deviations from Normal
• Forecast Verifications
Maps comparing forecast and observed degree day statistics
• March 27 - April 2, 2000 HDD
• April 10 - 16, 2000 HDD & CDD
• April 17 - 23, 2000 HDD & CDD
• April 24 - 30, 2000 HDD & CDD
• July 31 – August 6, 2000 CDD
• October 16 - 22, 2000 CDD & HDD